Raspberry Cheesecake Bars
I should really call these Raspberry Cheesecake Bars with Copious Amounts of Fresh Raspberries Not to Mention a Shortbread Crust. (That's not too long is it??) These bars are so rich and creamy and I would say you can only have one, but I'm pretty sure I ate half the pan while shooting, so…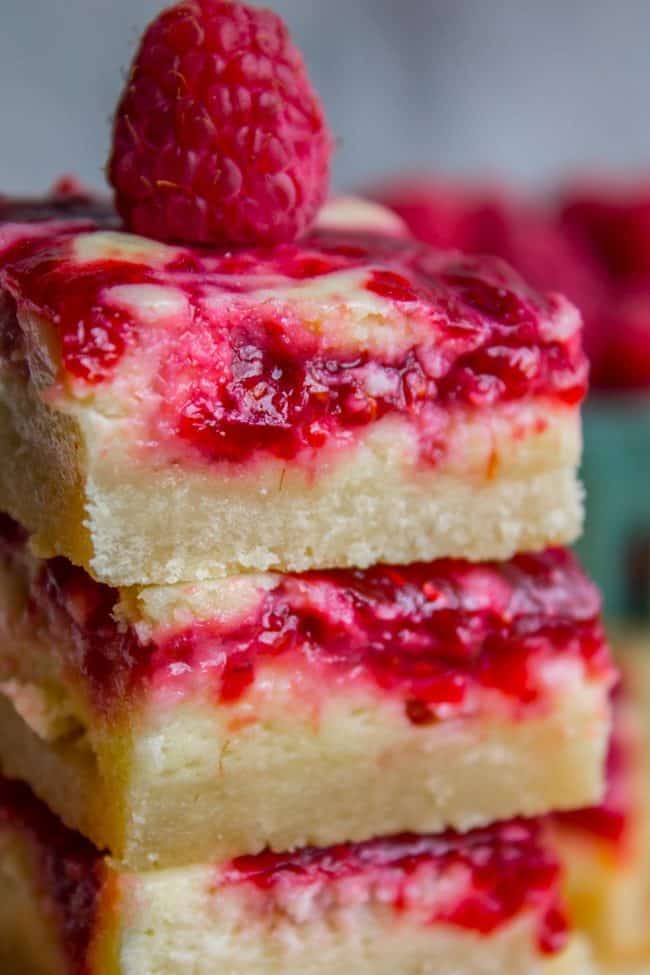 Are you a white pants person? Like, check yes or no, do you own white pants right now:
√ yes
√ no
I just feel like it kinda says something about you (something like, "I'm female" or maybe "I'm self confident" or even just "I'm extra tan.") I'm firmly in the no-white-pants category. "It's too impractical!" I can hear my mother saying. "What if you sat in something??"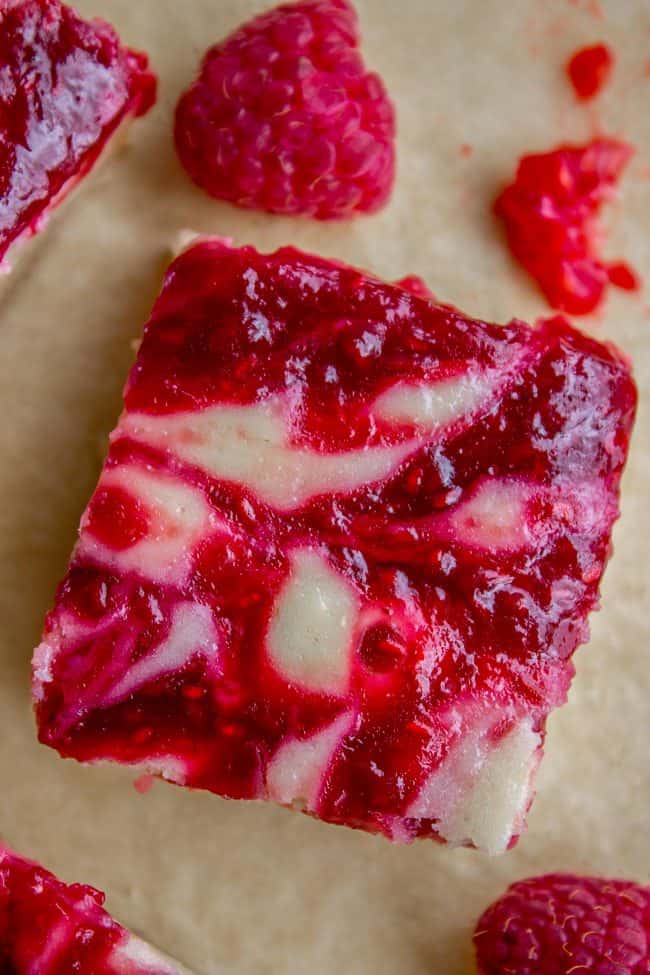 But Stitch Fix sent me white pants. I use Stitch Fix because I finally decided to outsource my fashion choices. I'm always making poor ones, so why not get a stylist to do it?
BECAUSE THEY SEND YOU WHITE PANTS, THAT'S WHY. They came in the box and my first thought was NO. But then I convinced myself to have an open mind. Live a little! Try something new! It's so trendy and all your friends will think you're cool! (Looking back, this is not true, probably most of my friends would think, "Karen, it looks like you sat in something.")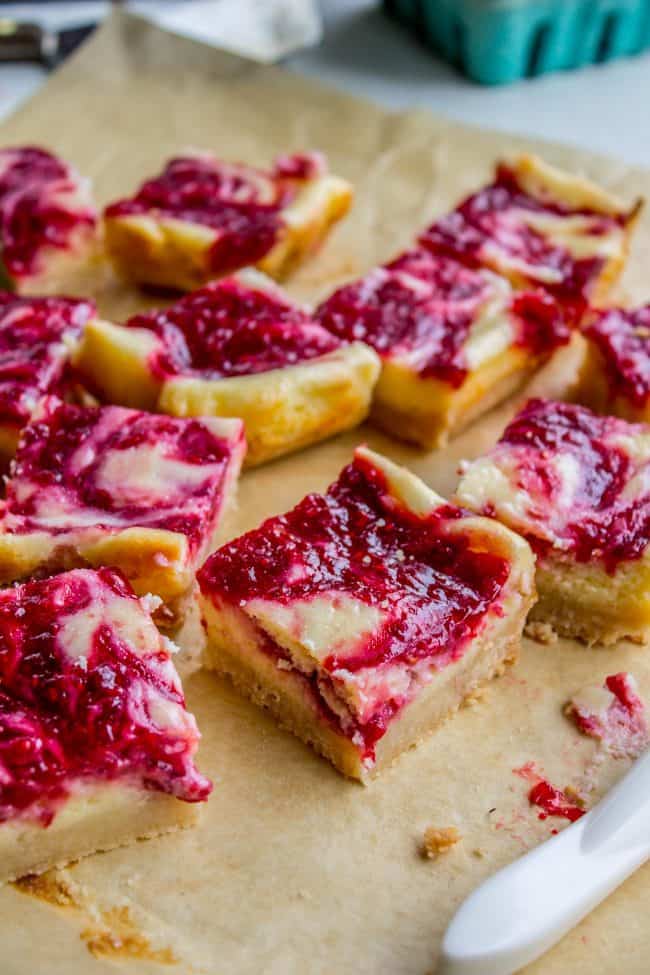 They came on a Saturday and we had friends over that evening for dinner. I wore them, tags still on, to get my friend's opinion on whether or not I should keep them. And she said they were cute and it was a definite yes. Then I sat in guacamole.
I'M NOT KIDDING.
Literally 30 minutes in my foray in the realm of white pants, and I end up with a bright green stain. I hadn't even taken the tags off yet. Everyone called me Guacamole Pants for the rest of the night, and I can't even blame them.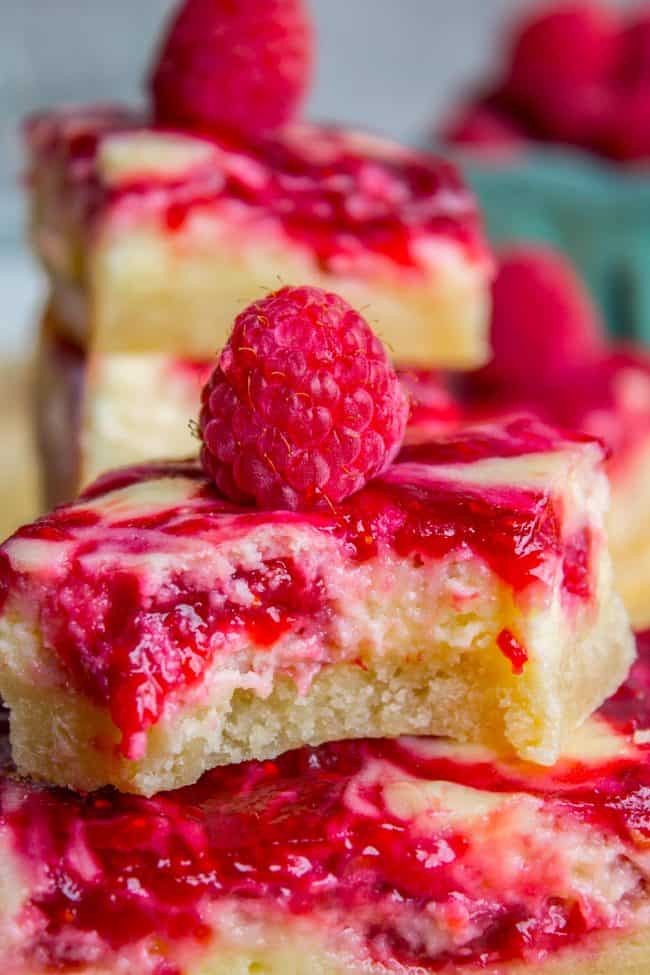 I highly recommend changing into something less white when you eat these Raspberry Cheesecake Bars. That berry juice is NOT washing out.
These bars are the perfect dessert for when you want cheesecake but don't want to wait a day and a half to eat it. Regular cheesecake takes forever to cool! I started making these bars at about 10am and was eating them by 1:30pm. Which, for cheesecake, is pretty impressive, considering you have to bake the crust, then bake the filling, then chill in the fridge. Or you can chill in the freezer, if you are ridiculously impatient like I am. (Rather, if you have to shoot them by 2pm in order to get the natural light you need for photographing.)


There is a pretty high crust-to-cheesecake ratio on these bars. I always wish there was more crust when I'm eating cheesecake, so this was great for me, but if you prefer a taller cheesecake bar, just double the cheesecake filling ingredients (I don't think you need to double the raspberry mixture, although you could.)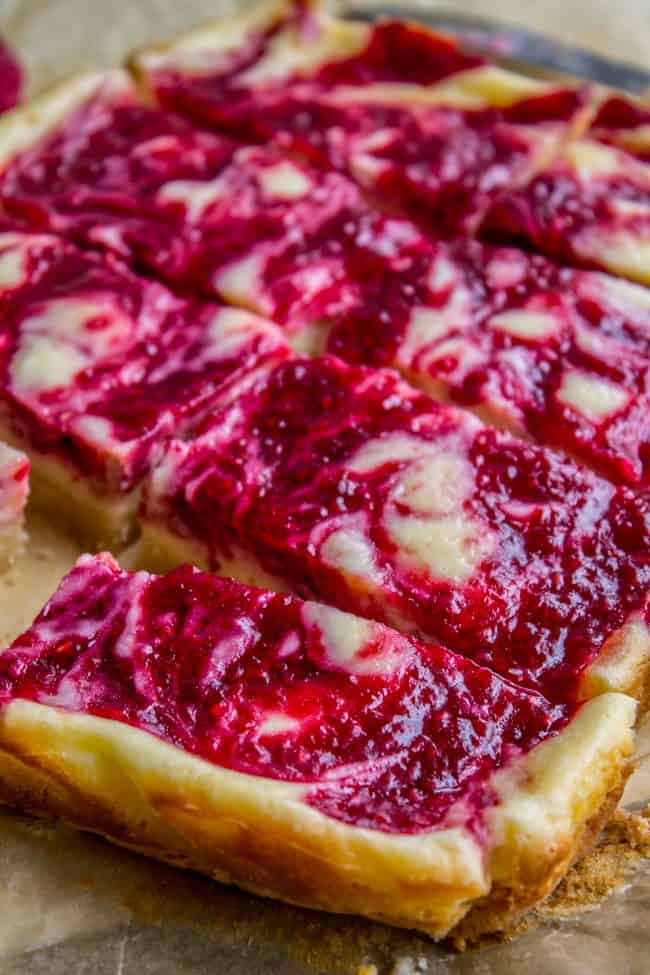 This would be great to make with the fresh raspberries that will be in stores soon! Or use frozen berries. Sometimes they taste even better than fresh ones because they are frozen immediately after being picked. That's what I did!
P.S. The guacamole washed out of the pants just fine with spray and wash. Now they will make a great addition to the museum section of my closet, unless you all pinky-swear to me to be the one to tell me next time I sit in guacamole.
P.P.S. immediately after publishing this, I saw ads on my blog featuring a dude wearing white pants. No joke. Big Brother KNOWS, GUYS.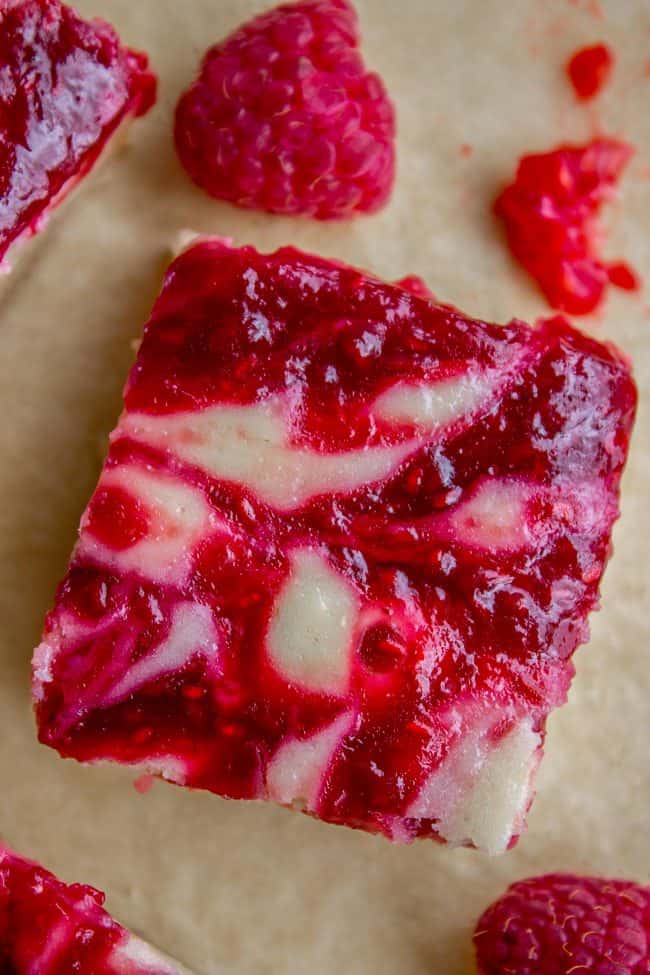 Did you make this recipe?LEAVE A REVIEW »
Raspberry Swirl Cheesecake Bars
Yields 12-16
I should really call these Raspberry Cheesecake Bars with Copious Amounts of Fresh Raspberries Not to Mention a Shortbread Crust. (That's not too long is it??) These bars are so rich and creamy and I would say you can only have one, but I'm pretty sure I ate half the pan while shooting sooo...
Ingredients
For the raspberry swirl
6 ounces (1 and 1/2 cups) fresh or frozen raspberries
1/4 cup water
1/4 cup white sugar
For the crust
1/2 cup (1 stick) salted butter, softened
1/2 cup white sugar
1/4 teaspoon salt
1 and 1/4 cups all purpose flour
For the cheesecake
1 (8 ounce) package cream cheese, softened
1/2 cup white sugar
1 egg
3/4 teaspoon almond extract
Instructions
Preheat the oven to 350 degrees F. Prepare an 8x8 or 9x9 inch pan with parchment paper or aluminum foil sprayed with nonstick spray. (Or just spray the pan)
Make the raspberry swirl: In a small saucepan, combine 6 ounces raspberries, 1/4 cup water and 1/4 cup sugar. Bring to a boil over high heat, and boil for 3 minutes, stirring. Reduce the heat to medium and then cook, stirring occasionally, for another 5-8 minutes, until mixture is thick. (It will continue to thicken as it cools) Set aside to cool completely. I put mine in the fridge.
Make the crust: In a large bowl or stand mixer, beat the 1/2 cup butter and 1/2 cup sugar until light and fluffy, stopping to scrape the bottom and sides.
Add the salt and flour and combine. It should look like coarse crumbs. It won't come together in a ball, but if you squeeze a bit in your hand it should stick together.
Pour the mixture into the prepared pan and press down. I like to use the bottom of a glass for this step. Bake at 350 for 16-18 minutes, until the edges are just starting to turn golden. Remove and set aside.
Meanwhile, make the cheesecake filling. Beat the cream cheese until smooth, scraping the sides and bottom. Add 1/2 cup sugar and beat. Add the egg and almond extract, and beat well.
When the crust has had a few minutes to cool, pour the cheesecake mixture in and spread to the sides.
Dollop the raspberry mixture on top of the cheesecake. Make sure to leave some white parts visible so that you have a chance to swirl.
Use a knife to make swirls back and forth across the pan.
Bake at 350 for 25-30 minutes, until the edges are just barely starting to turn golden (just a little bit!!)
If you have time, turn the oven off and leave the door open for a half hour. This will help your cheesecake not to crack. (Rapid changes in temperature are a part of that.)
Cover and refrigerate until completely chilled, about 2 hours in the fridge, or one hour in the freezer.
Use a sharp knife dipped in hot water to slice the cheesecake (if you want clean lines). I use a washcloth to wipe off the knife in between slices.
Recipe Notes
If you prefer a taller cheesecake layer, double the cheesecake filling ingredients (cream cheese, sugar, egg, extract) and leave everything else the same. Bake the crust the same amount, but increase the bake time for the cheesecake to about 50 minutes.
All images and text © The Food Charlatan
Raspberry Cheesecake Bars
Reviewed by
maxicode
on
August 30, 2018
Rating: