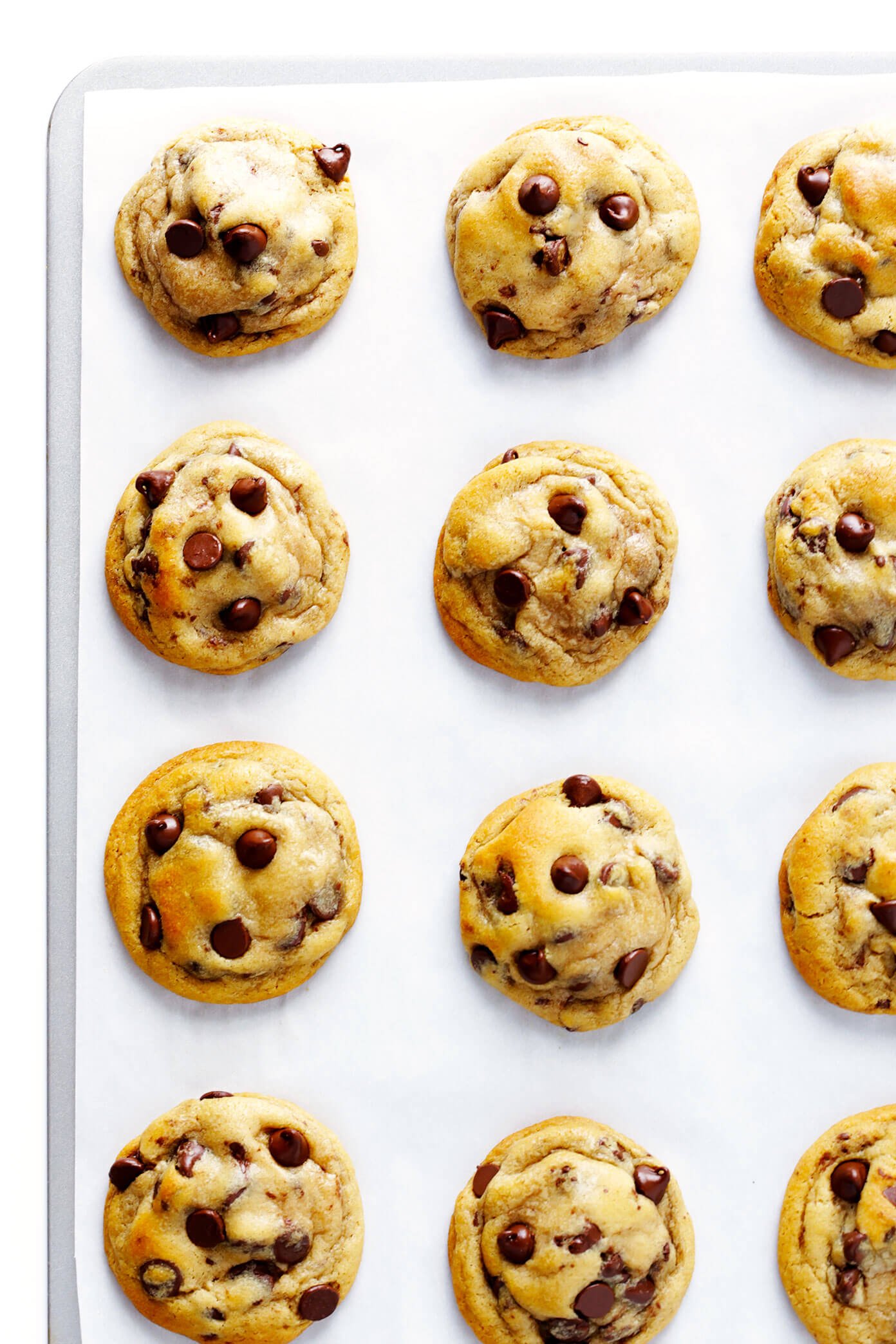 Meet…the absolute BEST chocolate chip cookies recipe. They're perfectly soft and chewy, loaded up with chocolate chips, and absolutely delicious.
I feel like everyone out there probably already has their own favorite recipe for how to make a killer batch of chocolate chip cookies.
But just in case you don't…I have one for you to try. :)
These cookies are soft, they're nice-and-chewy, they're deliciously-buttery, they're ooey-gooey-chocolatey, they absolutely melt in your mouth when they're fresh out of the oven, they are also strangely delicious when frozen (something my grandma taught me – who knew!), they are unfailingly always the hit of a party, they have been baked countless times in my kitchen, they will surely be baked countless times more, and…they are without a doubt…
…my all-time favorite chocolate chip cookies.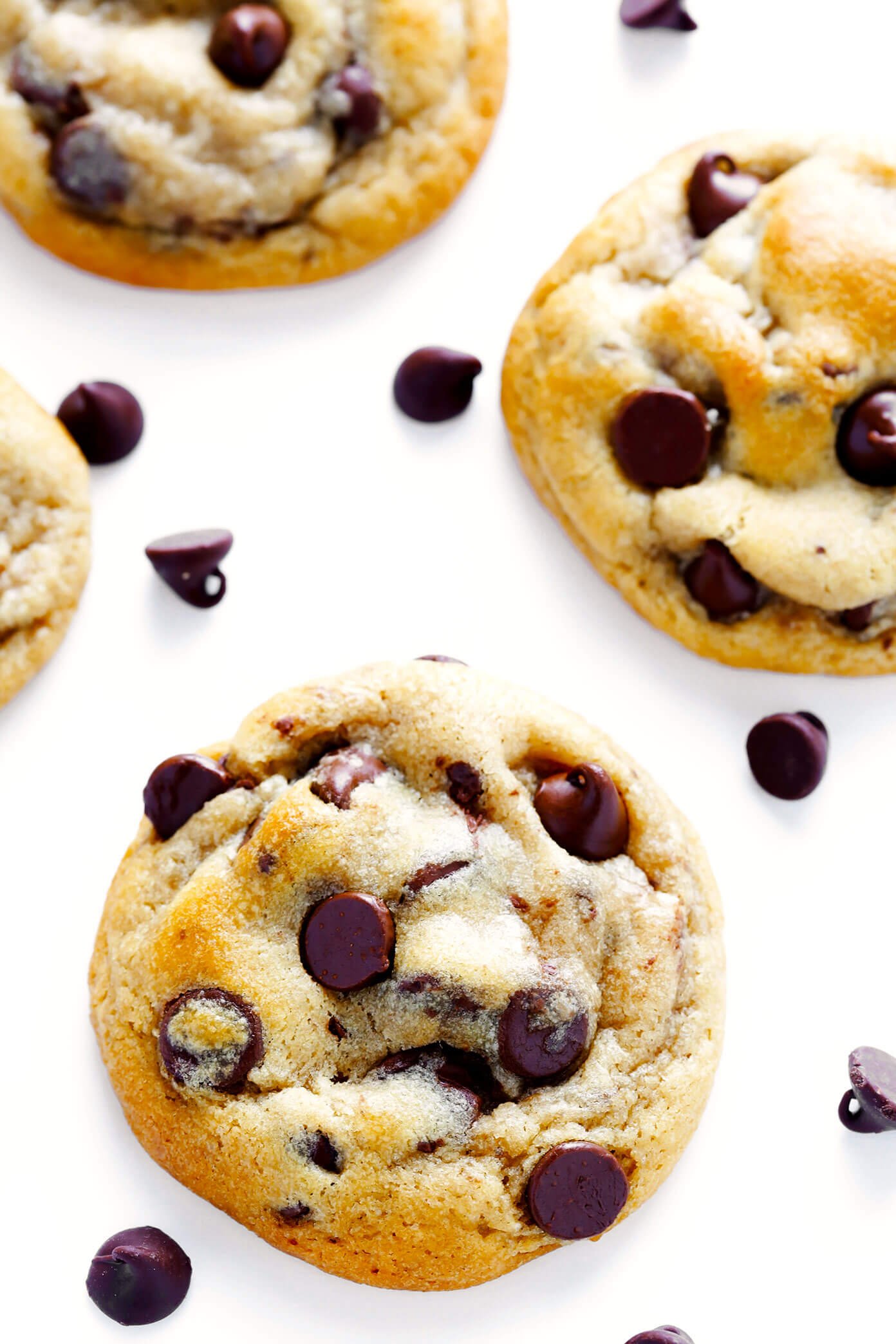 I have tried a lot of chocolate chip cookies in life, and have been baking up batches of my own ever since my dad taught me how to lick the beater — er, help stir in the chocolate chips — as a young pup. And while I've tried out many a "healthier" recipe over the years, and random ingredients substitutions like with my coconut oil chocolate chip cookies, let's be real.
There's no comparison to classic cookies made with butter and good ol' sugar.
Sure, these cookies aren't going to win any healthy-eating awards. But hey, when it comes to an indulgent treat every now and then, they're not meant to. And I do enjoy an indulgent treat every now and then. :)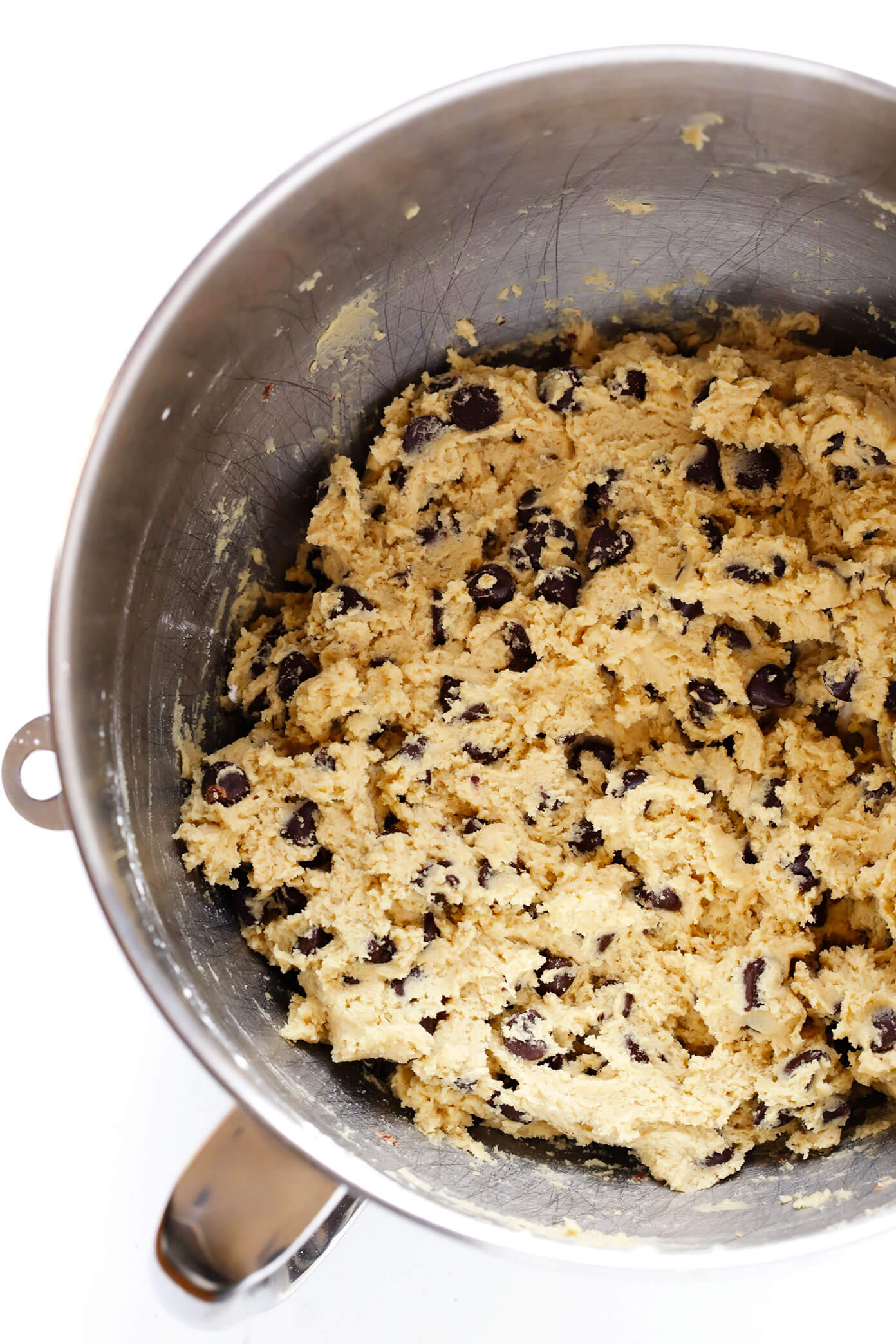 We begin by whipping up the dough. Now there are all sorts of opinions out there in the baking world about brown sugar vs. white, butter vs. shortening, what type of flour is best, how much vanilla to use, and on and on.
Here's what I have decided I like:
All butter, all the way: I grew up making ccc's with half butter and half shortening. And boy, while that shortening did help make them nice and chewy, it creeps me out and I much prefer the flavor of butter.
Go heavy on the brown sugar: A little extra brown sugar helps add extra chewyness (and that extra-delicious molasses flavor), so we're good to go with the butter.
Use lots of vanilla, and good vanilla: If you can, I highly recommend splurging on good vanilla for baking. (This organic vanilla is only about $11 on Amazon.) It really makes a world of difference, especially when we use 2 full teaspoons for this recipe.
Excuse me, cornstarch?: That's right! Baker's secret — cornstarch is magic when it comes to making cookies nice and chewy. (Can you tell I'm a little obsessed with "chewy"?)
Extra chocolate chips for the win: Food stylist's secret — poke a few extra chips in your dough balls before baking, and that way you'll be able to taste and see lots of chocolate chips in the final product.
Refrigerate that dough: A must with butter-based cookies. Be sure to chill your dough after it has been whipped up (or after you have formed the dough into balls) for at least 10-20 minutes so that the butter can firm up again before baking. This will help it melt a little less, thus making your cookies a little bit thicker and less spread-out.
And don't forget to bake on parchment: Or a silicone baking mat. I don't fully understand why, but my cookies always bake so much more evenly when they're not sitting directly on a baking sheet.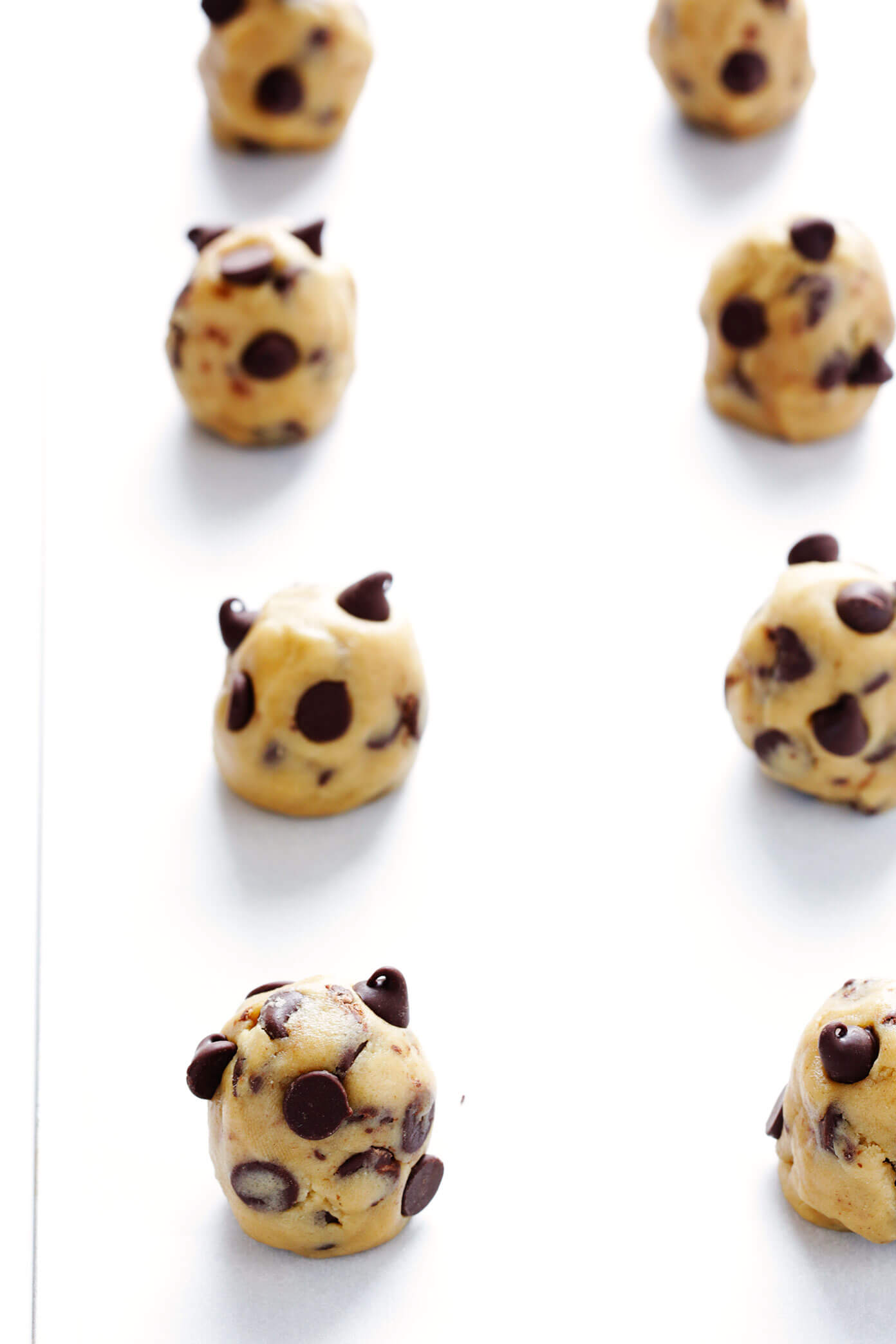 So, let's get to it! Roll those puppies up, place them on your parchment, poke some extra chips on the tops of each ball, pop the sheet in the fridge (they chill more quickly when already formed into balls)…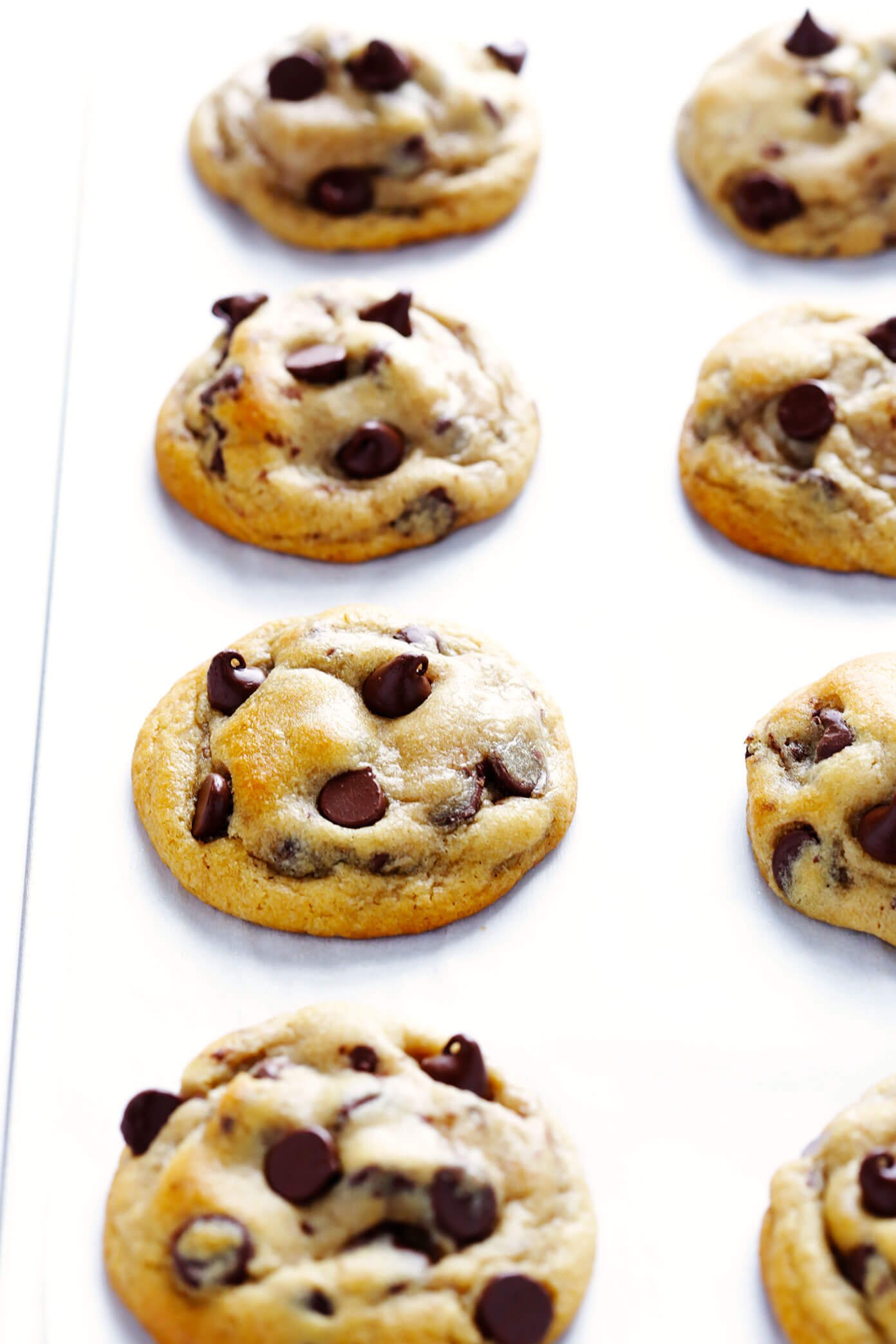 …and then bake them up until they're lightly golden on top.
The #1 crime of un-chewy cookies is overbaked cookies. So resist the urge to leave them in an extra minute. Pull them out when the tops are lightly golden, and after they sit on the tray for another minute, they will likely be cooked through to perfection.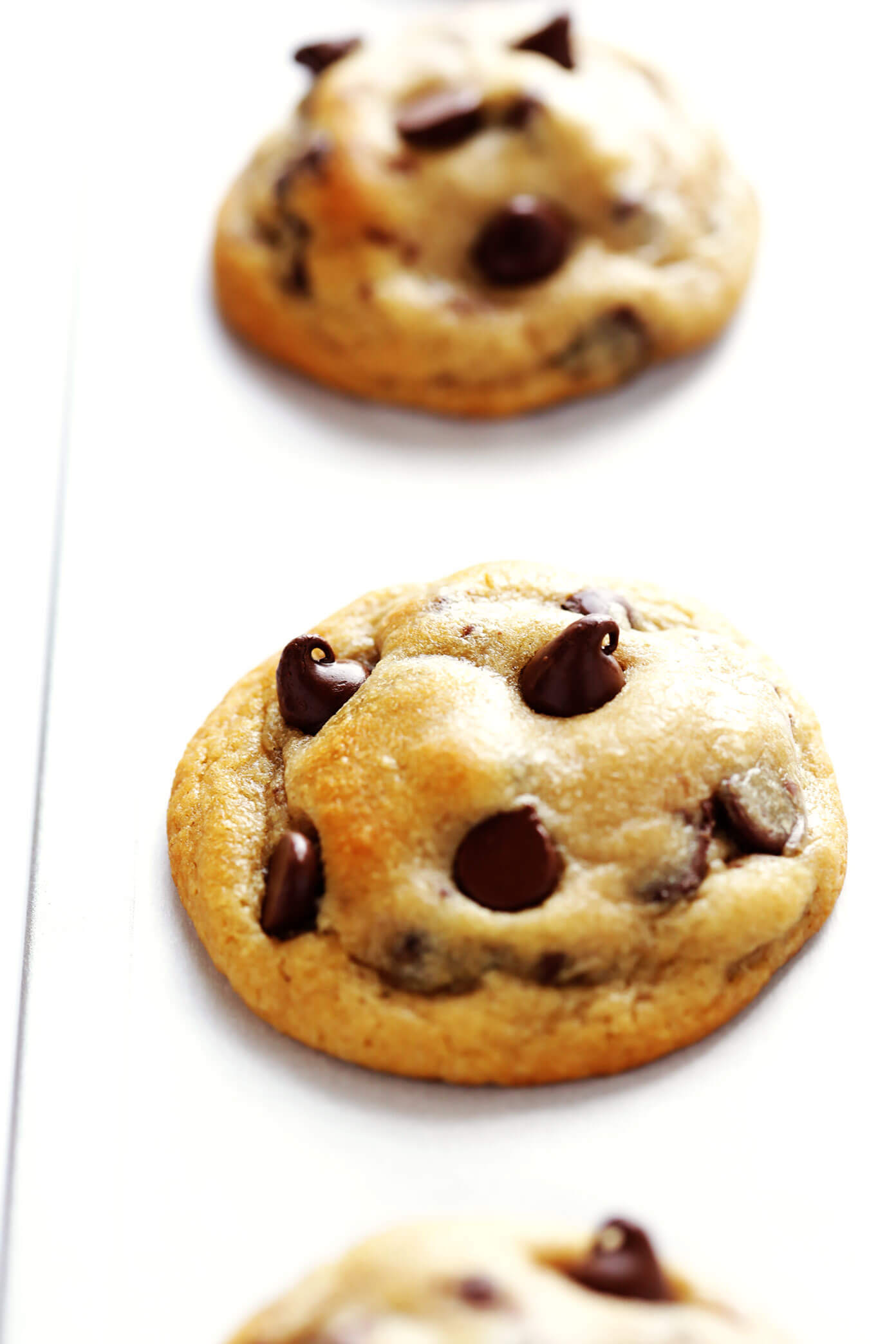 Transfer them to a wire rack to rest for just a bit…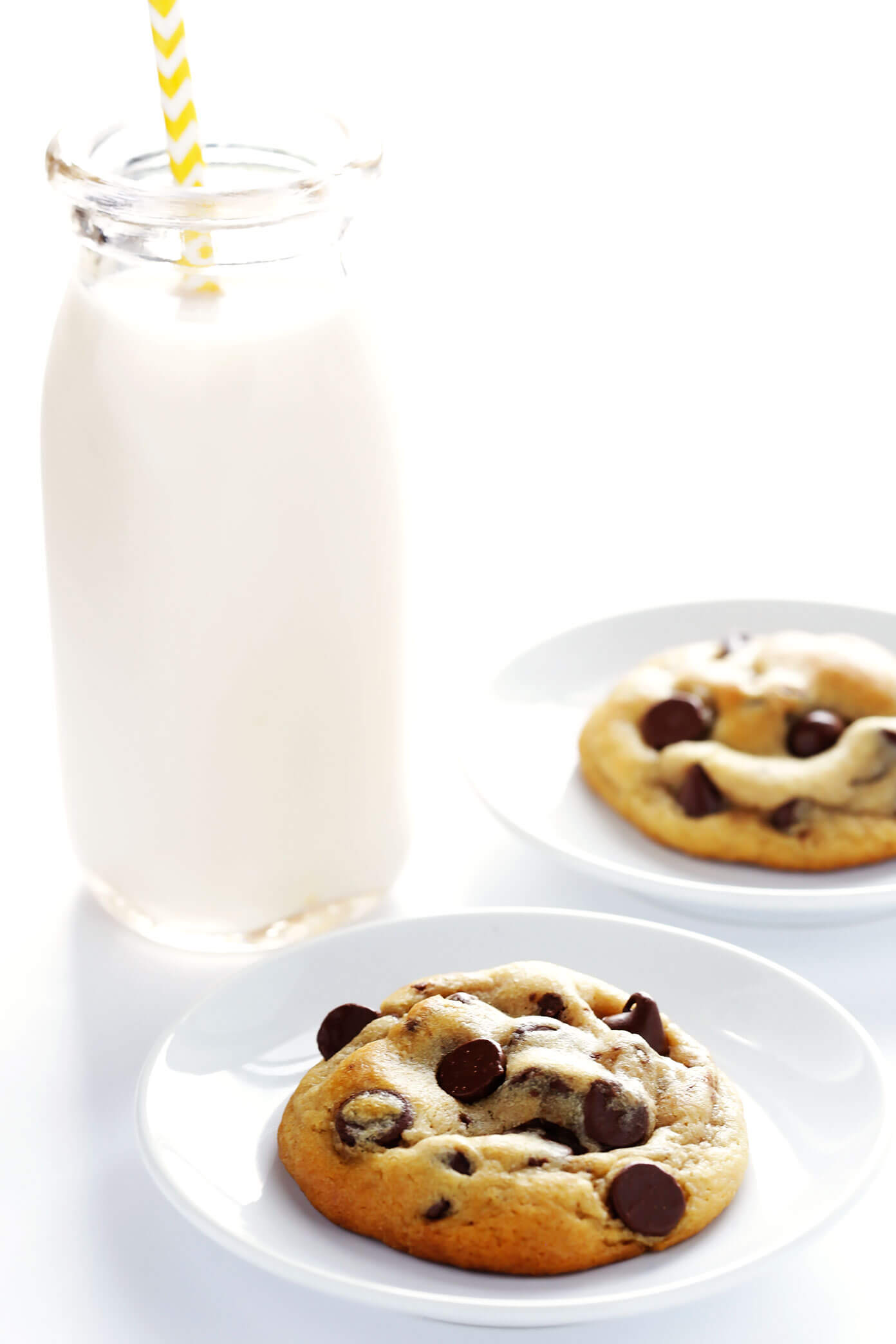 …but not for too long. Because let's be real, cookies are their absolute best when they are still warm and melt-in-your-mouth-delicious.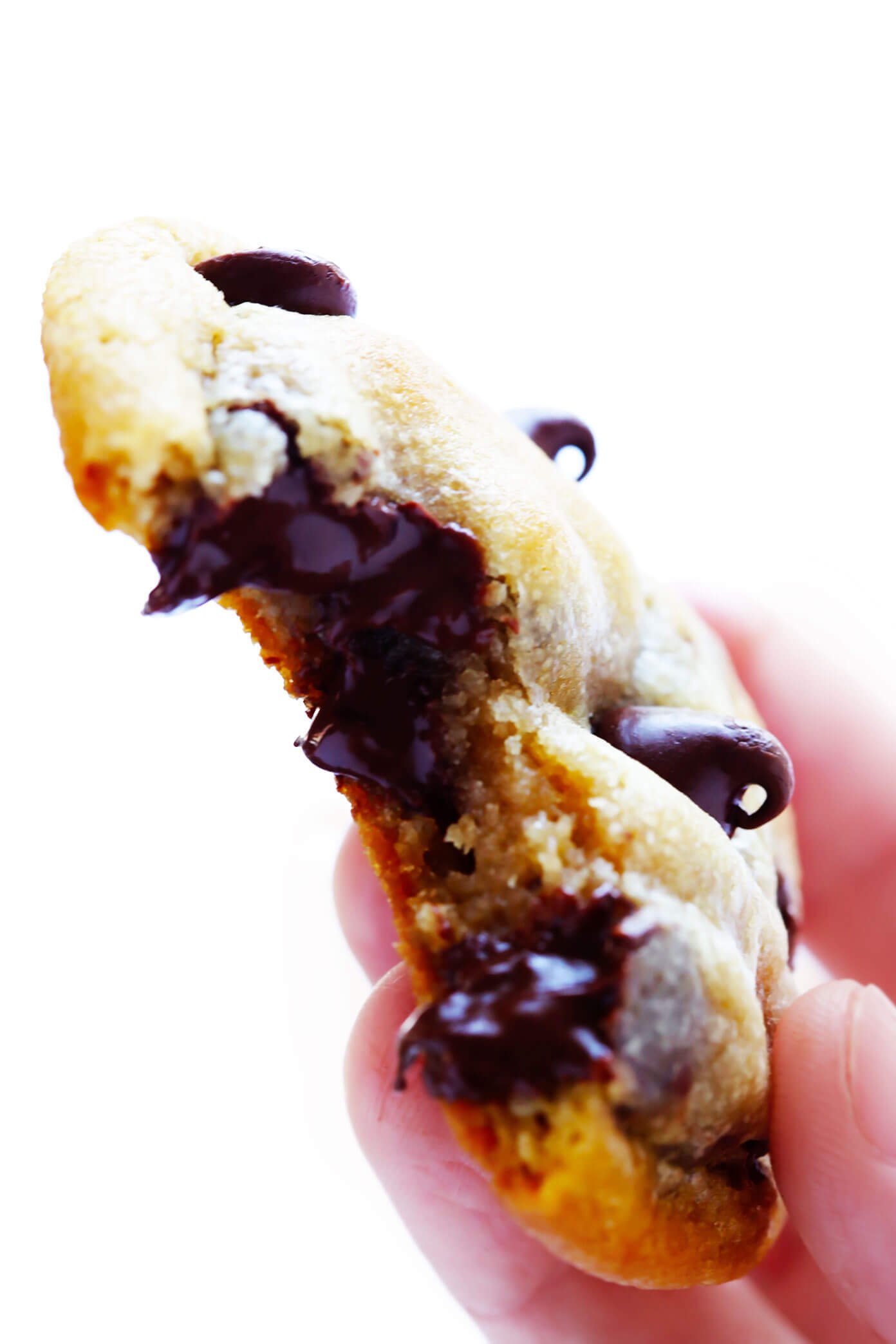 So if you're looking for a solid new chocolate chip cookie recipe, I recommend that you bust out that mixing bowl immediately and enjoy the ooey-gooey mess out of these. Please. :)
THE BEST CHOCOLATE CHIP COOKIES!
Hands-down the BEST chocolate chip cookies recipe! These cookies are perfectly soft and chewy, loaded up with chocolate chips, and absolutely delicious.
INGREDIENTS:
1/2 cup butter, softened to room temperature
1/2 cup brown sugar, packed
2 teaspoons vanilla extract, store-bought or homemade
1 1/2 cup all-purpose flour
1 cup semisweet chocolate chips
DIRECTIONS:
1. Preheat oven to 350°F. In the bowl of a stand mixer, use the paddle attachment to cream together the softened butter and sugars on medium-high speed until light and fluffy, about 3 minutes. Add egg and vanilla, and mix until combined, about 1 minute.
2. Add in the flour, cornstarch, baking soda and salt, and beat on medium-low speed until combined. Fold in the chocolate chips by hand until just combined.
3. Shape the dough into balls that are about 1-inch in diameter, and place them on a parchment-covered baking sheet. Chill in the refrigerator for at least 10-20 minutes, or until the dough is chilled through. (This will help prevent the cookies from spreading out too flat when they bake.)
4. Bake for 10-12 minutes until the edges are just set. The centers may look slightly undercooked. Cool cookies on the baking sheet for about 5 minutes, then transfer to a wire rack to finish cooling. Serve immediately or store in a sealed container for up to 1 week. You can also freeze the cookies for up to 3-4 months.
THE BEST CHOCOLATE CHIP COOKIES!
Reviewed by
maxicode
on
August 18, 2018
Rating: