Deep Fried Cookie Dough
Deep Fried Cookie Dough is a mouthwatering dessert that's crispy on the outside, but soft and melty on the inside, with intense cookie dough flavors. One of the best treats you'll ever eat!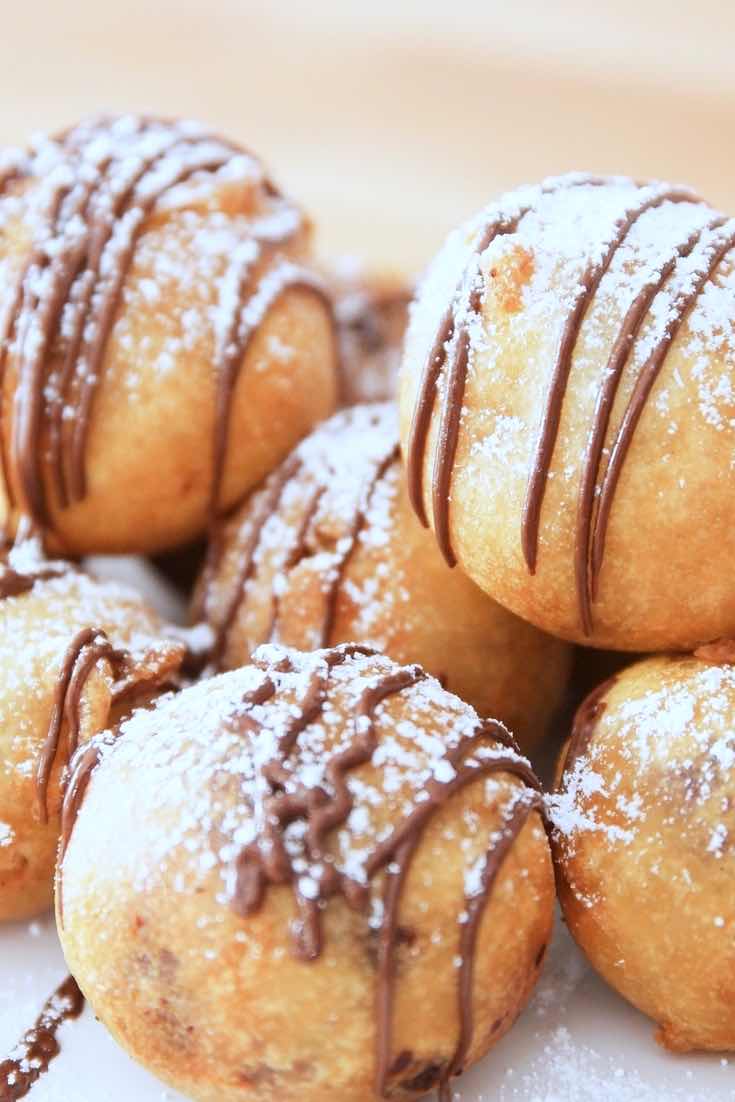 It's battered cookie dough bites fried to a fluffy, golden perfection for a sweet treat that melts in your mouth. This recipe is inspired by the Texas State Fair, where is has appeared several years according to reports.
But the question remains on how to make it at home, since we wouldn't want to limit our intake to once per year! This dessert is so yummy for Cheat Days, midnight snacks, spring break. Heck, we've even made it on Mother's Day.
See when you pull apart these balls, they are full of melty chocolately goodness that nobody can resist!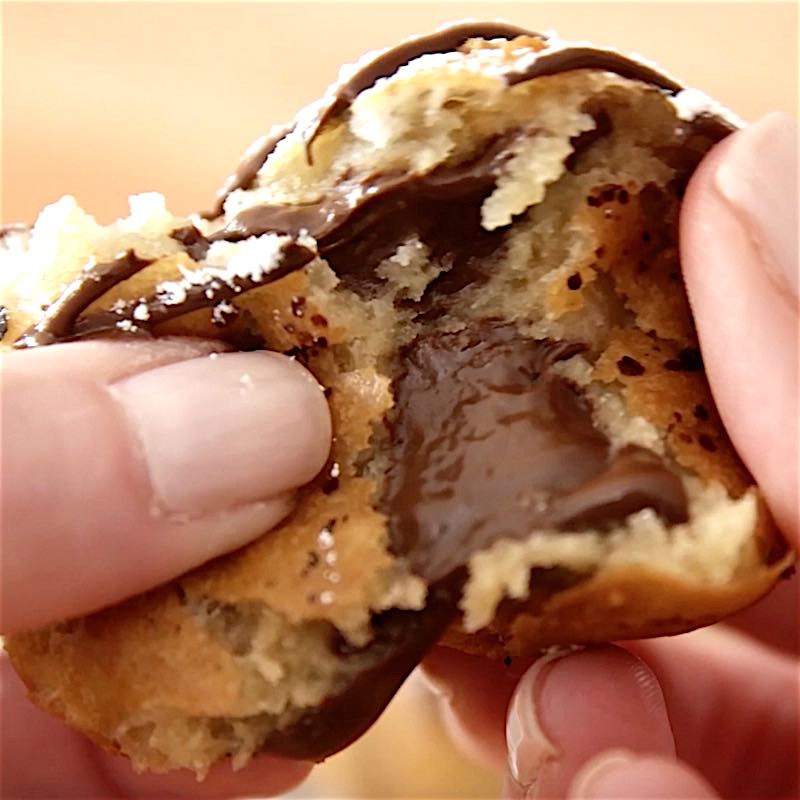 We like to serve them warm on a platter stacked in two layers. You can also give them a dusting of powdered sugar and drizzle with chocolate sauce.
This is one of the easier deep fried recipes out there. Simply start with your favorite cookie dough batter, either homemade or store bought. We used chocolate chip here, but it works for oreo or peanut butter dough too.
Then use a scoop to make about 24 cookie dough balls about 1 1/2 inches in size: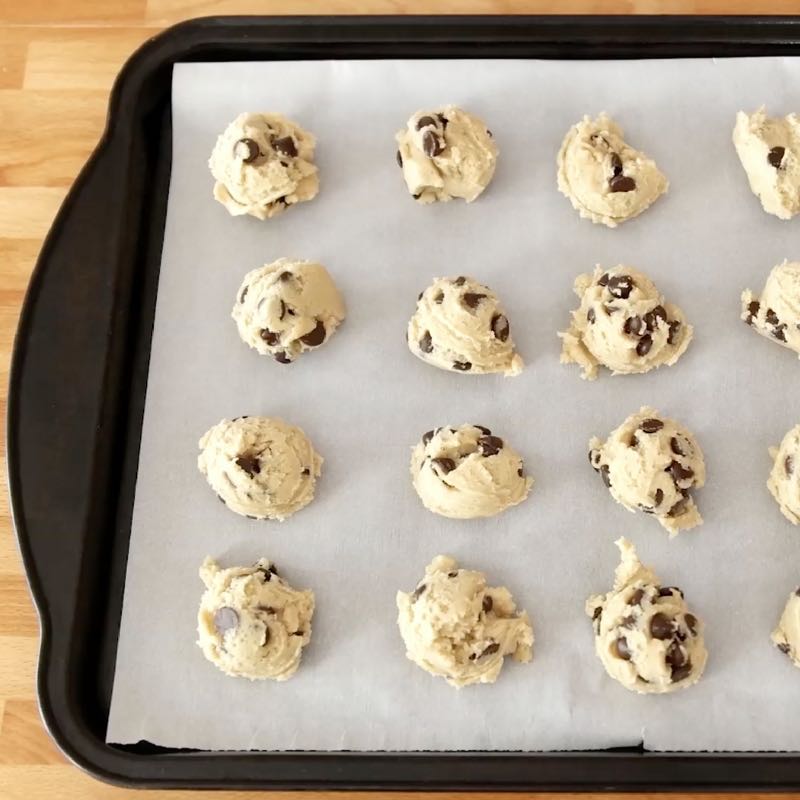 The final step before deep frying is dipping each ball into a batter that is similar to pancake batter. Some people have asked if raw eggs are an issue, but the balls get fully heated in the deep fryer so no worries.
Deep Fried Cookie Dough
Chocolate chip cookie dough that is battered and deep fried to perfection, crispy on the outside and soft on the inside. Great for a party or a late night snack.
Prep Time 25 minutes
Cook Time 5 minutes
Total Time 25 minutes
Servings 24 servings
Calories 232 kcal
Author TipBuzz
Ingredients
Cookie Dough
1/4 cup unsalted butter softened
1/2 cup brown sugar packed
1 large egg
1 teaspoon vanilla
1 cup all-purpose flour
1 cup chocolate chips
Batter and Frying
1 1/4 cups all-purpose flour
1 teaspoon baking powder
1/4 teaspoon salt
1/4 cup granulated sugar
2 teaspoons vegetable oil
1 cup milk
3 cups vegetable oil for frying
Serving - optional
1/4 cup powdered sugar
chocolate or caramel sauce
Instructions
Line a medium baking sheet with parchment paper/wax paper, and also line a plate with paper towel. Set both aside.
In a medium bowl, cream together butter, sugar, egg and vanilla. Mix in flour and chocolate chips until blended.
Form into 1 ½ inch balls and place onto prepared baking sheet.
Freeze the balls for at least 15 minutes while you complete the remaining steps.
In a medium bowl, mix together flour, baking powder, salt and sugar. Add milk and oil and whisk until smooth.
Add 2 inches of oil to a medium saucepan or deep fryer and heat to 375°F.
Dip four cookie balls into batter and gently drop into hot oil. Fry 1-2 minutes per side until golden and remove to prepared plate.
Repeat previous step for remaining balls, frying in batches.
Drizzle with optional topping and dust with powdered sugar. Serve and enjoy!
Nutrition Facts
Deep Fried Cookie Dough (with Video Tutorial)
Amount Per Serving
Calories 232
Calories from Fat 99
% Daily Value*
Total Fat 11g17%
Cholesterol 14mg5%
Sodium 51mg2%
Potassium 66mg2%
Total Carbohydrates 31g10%
Protein 3g6%
* Percent Daily Values are based on a 2000 calorie diet.
Deep Fried Cookie Dough
Reviewed by
maxicode
on
September 02, 2018
Rating: