Slow Cooker Taco Lasagna
Slow Cooker Taco Lasagna – Layers Of Tortillas, Cream Cheese, Beans, Taco Meat, Enchilada Sauce And Cheese. Perfectly Creamy, Cheesy And Has Tons Of Flavor. This Is The BEST Taco Lasagna Recipe!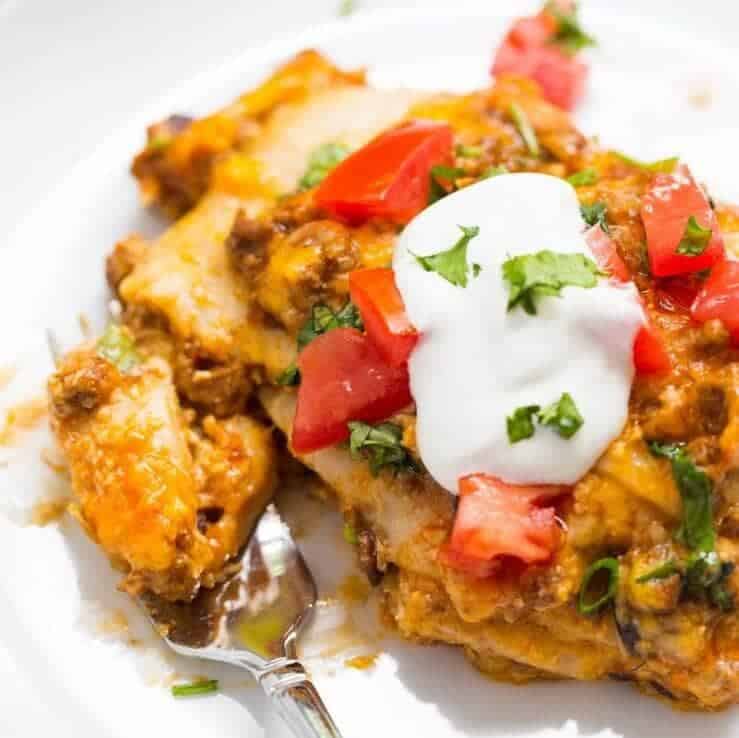 Taco Lasagna
This slow cooker taco lasa
Toppings to add to taco lasagna recipe
Sour cream or plain greek yogurt
Cilantro
Green onions
Avocado or guacamole
Black olives
Jalapenos
Green or red bell peppers
Shredded lettuce
Quick tips about crock pot taco lasagna
Want an easier clean up? Try using a slow cooker liner before you add ingredients.
If you don't have a slow cooker or would rather bake taco lasagna in the oven, you easily can. Just add all ingredients to a 9×13 baking dish and bake at 375 degrees for 30 to 45 minutes (until cheese is melted and bubbly).
Use gluten-free or corn tortillas (check the label!) to make gluten-free.
Want to lighten up the crockpot Mexican lasagna? Use ground turkey or shredded chicken vs. ground beef. And substitute full fat cheeses with reduced fat cream cheese and shredded cheese.
If you're not a fan of black beans, you could use pinto beans instead. You could even omit beans all together and use corn as the replacement.
SLOW COOKER TACO LASAGNA
COURSE: MAIN COURSE
CUISINE: MEXICAN
KEYWORD: TACO LASAGNA, TACO LASAGNA RECIPE
PREP TIME: 15 MINUTES
COOK TIME: 4 HOURS
TOTAL TIME: 4 HOURS 15 MINUTES
SERVINGS: 8
CALORIES: 673 KCAL
AUTHOR: JAMIELYN
INGREDIENTS
2 pounds hamburger
3 tablespoons taco seasoning(divided)
1 cup salsa
8 ounces cream cheese(softened)
15 ounces black beans (drained and rinsed)
15 ounces red enchilada sauce
2-3 cups shredded cheddar or monterey jack cheese (I like to do a mix)
4 large flour tortillas
OPTIONAL TOPPINGS: SOUR CREAM, TOMATOES, CILANTRO, GREEN ONIONS, OLIVES
INSTRUCTIONS
In a large frying pan, cook the hamburger over medium heat until browned. Drain grease and stir in 2 Tablespoons taco seasoning and salsa.
Add the cream cheese and 1 Tablespoon taco seasoning to a medium sized bowl. Stir until smooth and then add in the black beans.
Pour 1/3 cup enchilada sauce into the bottom of the slow cooker. Place a tortilla on top and spread with 1/3 cup cream cheese mixture. Then add about 1 cup taco meat and 3/4 cup cheese. Drizzle 1/3 cup enchilada sauce on top and then repeat with 3 layers.
Cook taco lasagna on low for 4-5 hours or on high for 2-4 hours, or until cheese in nice and bubbly hot. Slice into 6 or 8 pieces and serve with your favorite toppings.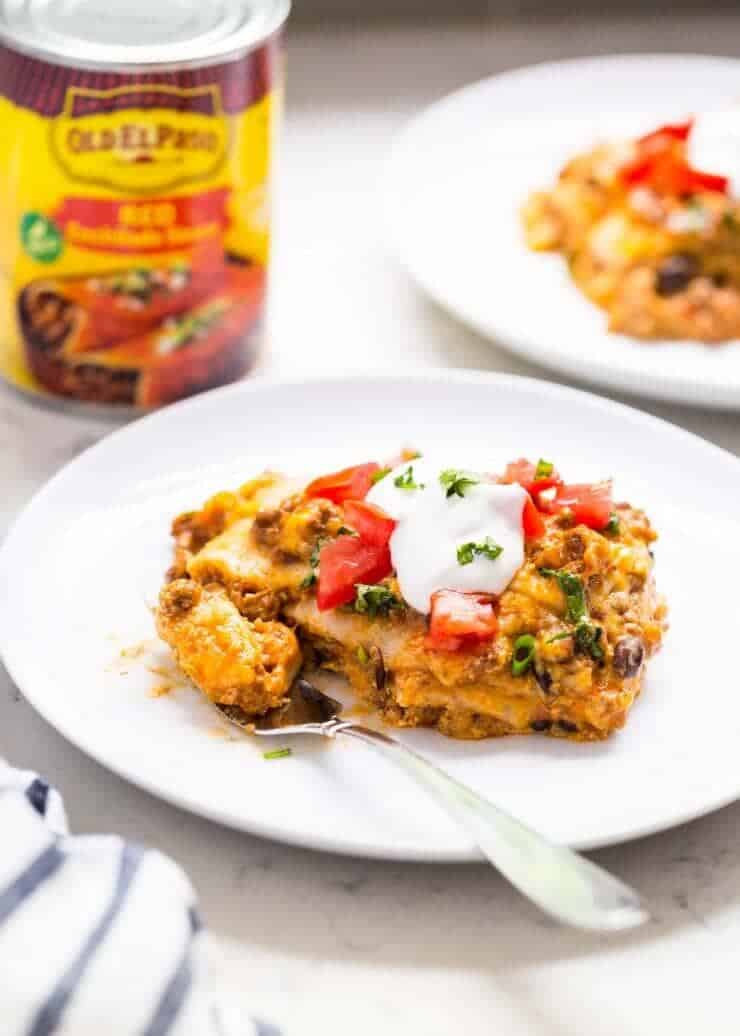 Enjoy!
Slow Cooker Taco Lasagna
Reviewed by
maxicode
on
September 30, 2018
Rating: